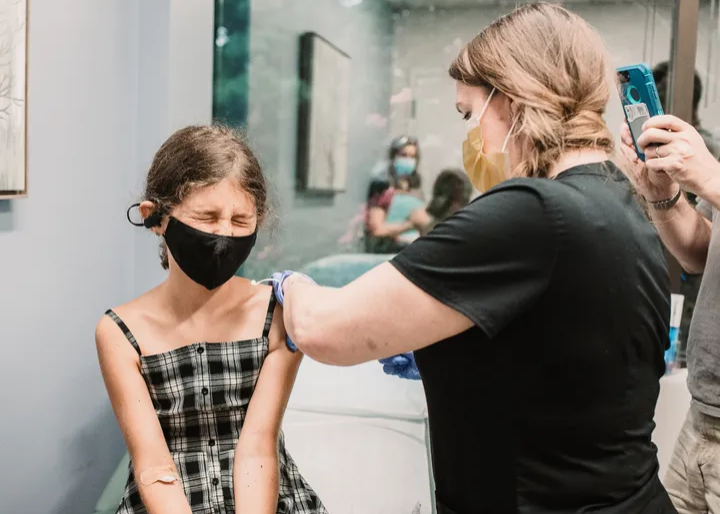 The author's 10-year-old daughter receives her first COVID-19 vaccine dose.
PHOTO COURTESY OF JAMIE DAVIS SMITH
In the early days of the pandemic, one of the things that gave so many of us hope was that the scientific world was single-handedly focused on COVID-19. We would learn how it spread. We would find treatments. Crucially, we would develop a vaccine.I soaked up information, learning that scientists have been studying coronaviruses, which cause not just COVID but also SARS and MERS, for half a century. mRNA vaccines are hardly new either, as they had been studied for the flu, Zika, rabies and cytomegalovirus.


The influx of funds and laser-like focus of the world's scientific community meant that this 50-year-old foundation could be built upon quickly, without skipping any steps. All of this had happened without most people paying attention, so it seemed like the vaccine had been developed overnight. Finally, eight months after we first went into lockdown, the Food and Drug Administration approved a vaccine under an emergency use authorization. My favorite part of social media quickly became vaccine selfies. Every time I saw a friend getting vaccinated, I told myself that it would soon be my turn. Every needle in every arm brought us closer to ending this pandemic.I finally got vaccinated in February 2021 after hunting down a vaccine like my life depended on it — because it did. I felt like a contestant in the Hunger Games as I booked appointments for my husband and myself, a process that involved three different family members on four different devices while waiting on hold on two different phones. I cried with relief as a syringe delivered that life-saving vaccine into my arm.
We were in a race against time, against COVID spreading and mutating. I knew that vaccinating children was an important part of reaching herd immunity. I felt confident that my children, ranging in age from 6 to 15, would be able to get vaccinated within months, too. When my older two kids, both teenagers, were able to be vaccinated, they got their jabs within hours of approval. My normally needle-phobic son was so eager to do simple things like ride the bus and go into Target again that he could not roll up his sleeve fast enough. My older daughter went back to in-person school, and my son started seeing friends again. Their lives improved immeasurably, and my stress level stopped skyrocketing every time they left the house.But my younger two children were left in limbo. There was no clear timeline for when they would be able to get vaccinated. My hope sank when it became clear that they would not be able to get vaccinated before the start of the 2021-22 school year. Then I lost hope that they would be able to be vaccinated in September. Or October. I had no doubt that the vaccine was safe and effective. I did not want the process to be rushed, but I was still impatient and wanted my kids to be protected.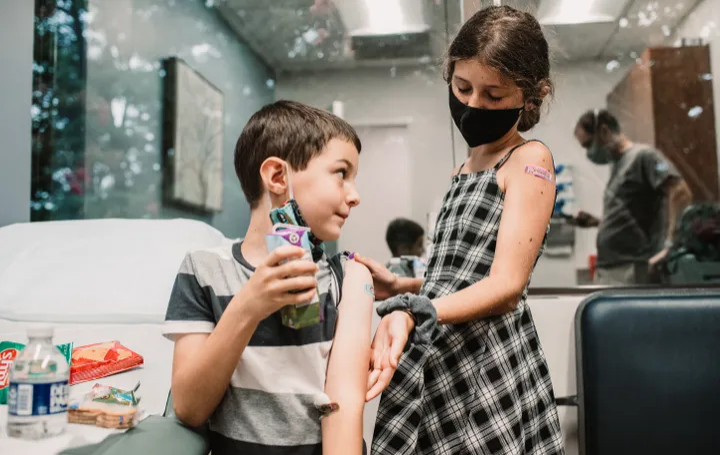 The author's children, ages 6 and 10, after they received their first COVID-19 vaccine dose.
PHOTO COURTESY OF JAMIE DAVIS SMITH
Out of desperation to keep my kids healthy and safe, I started looking for vaccine trials for them. The mom network always comes through. We traded information with lightning speed whenever we heard about a vaccine trial enrolling children ages 5 to 11. We sent phone numbers, links to study sites and enrollment forms to one other, sometimes late at night. I even considered flying my kids to Texas if necessary to get them vaccinated as soon as possible.
I got on waitlists for at least half a dozen studies. Email after email from study sites came in telling me that unfortunately, my kids could not enroll in one study or another due to unprecedented demand that took the study coordinators by surprise. Finally, I received the call I had been waiting for. My two younger kids, ages 6 and 10, got the last two slots in a Moderna vaccine trial. The study site was two hours away from my house, but I didn't hesitate to say we'd be there. We had won the golden ticket.It was critical to me to get my kids' consent to participate. I told them that there would be blood draws, nasal swabs and, of course, needles.
I told them there could be unknown risks because even though millions of adults and older kids had received the vaccine, we didn't yet know if kids their age would react differently. I also told them there was a chance they could do all this only to get a placebo and need to be stuck twice more. I also told them that if they got vaccinated, they might feel sore and sick. They knew that if they did feel bad, it would likely last just a day or two. They agreed that this was worth the trade-off for being protected against COVID, which could make them very sick for much longer and which had already killed hundreds of children in the U.S. alone.
I promised them lots of screen time and ice cream after their shots.Before signing on the dotted line, I called my pediatrician to ask her opinion. She was elated for my children. I asked her if she would have enrolled her son in a COVID vaccine trial had he still been young. Her answer was an unequivocal yes. She assured me that she would be available if I had any concerns after their shots and that she thought I was making the right decision.
Story Cont......