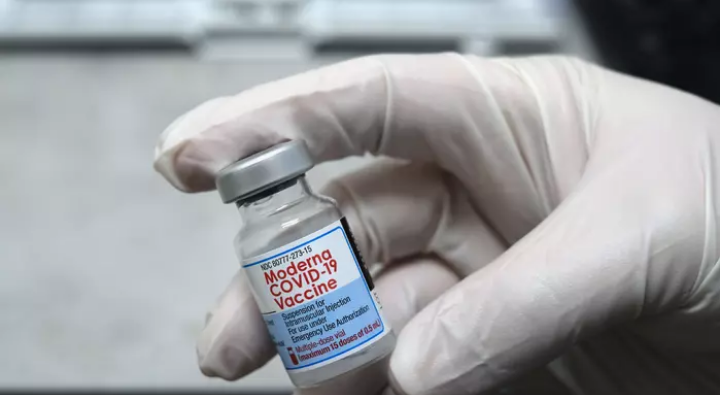 A vial of the COVID-19 vaccine in New York on June 23, 2021. (Bess Adler/The New York Times)
People who received a Johnson & Johnson coronavirus vaccine may be better off with a booster shot from Moderna or Pfizer-BioNTech, according to preliminary data from a federal clinical trial published Wednesday.
That finding, along with a mixed review of Johnson & Johnson's booster data from the Food and Drug Administration released earlier in the day, could lead to a heated debate about whether and how to offer additional shots to the 15 million Americans who have received the single-dose vaccine.
The agency's panel of vaccine advisers will meet Friday and vote on whether to recommend that the agency authorize the company's application for boosters for recipients of its vaccine.
Despite these questions about the strength of J&J boosters, some experts anticipated that the agency would clear the shots anyway to meet the public's demand.
In a study conducted by the National Institutes of Health, researchers organized nine groups of roughly 50 people. Each group received one of the three authorized vaccines, followed by a booster. In three groups, volunteers received the same vaccine for a boost. In the other six, they switched to a different one.
The researchers found that those who got a Johnson & Johnson shot followed by a Moderna booster saw their antibody levels rise 76-fold within 15 days, whereas those who received another dose of Johnson & Johnson saw only a fourfold rise in the same period.
A Pfizer-BioNTech booster raised antibody levels in Johnson & Johnson recipients 35-fold.Still, the authors cautioned about the study's small size and noted that they did not follow the volunteers long enough to identify potential rare side effects.
The study was also limited in how it measured the immunity provided by boosters. The researchers only looked for antibodies that can stop the coronavirus from replicating in cells. They did not examine how well the booster trains immune cells to recognize and kill infected cells.
Johnson & Johnson in a statement said it looked forward to discussing the data at the Friday meeting, where panelists will also hear a presentation from the authors of the mix-and-match study.The FDA has already authorized an additional shot of the Pfizer-BioNTech vaccine for people older than 65 or with health conditions or job exposures that put them at higher risk. Moderna has also submitted an application for a booster, which will be evaluated by the FDA's advisers Thursday.
This article originally appeared in The New York Times .